Name:  Keith Robert Brinkman
Local African Names: Kofi (male child born on Friday) in Ghana;  Kofa in Liberia; Sahr (first born son in the Kono tribe) Keith in Sierra Leone;Karim Keita in Guinea; Lahimatoa (first born son) in Madagascar, and sometimes Robert in the French speaking nations.
Birthday: September 16
Marital Status: Single
Organization: Mercy Ships, on board the Africa Mercy
New Brochure Celebrating 10 Years of Service in Africa June 2016
Mercy Ships was birthed in Youth With A Mission (YWAM) and when I joined in 1989, we were all one large organization.  Yet today Mercy Ships a separate organization.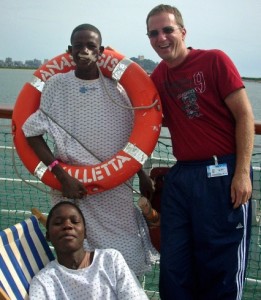 From 1989 to 1994, I served as accountant at the US National Office – also known as the Port Office, Home Office, International Office and now International Operations Center.  While there, I traveled and served short time both on the Anastasis and Good Samaritan.  From 1994 – 2005, I served as the financial officer and part of the senior management team on the Caribbean Mercy in which I was responsible for the financial affairs and a department of five crew members – serving primarily in Central America and the Caribbean. With the decision to no longer use the Caribbean Mercy in 2005 after 11 years, I transferred to the International Operations Center in Texas.  While there, I served on our Strategic Planning Team and on the Disaster Response Team with Mercy Teams for those along the Gulf in 2005 and 2006.  Though since 2006, I have been serving in Africa, the first year on the Anastasis and then on the Africa Mercy when she came to Africa in 2007 in Monrovia, Liberia.  My role is as Programs Administration Manager in the Executive Department – responsible to the managing director for programs – hospital, medical capacity building/training, capacity building support programs projects, mercy ministries, advance, assessment and evaluation – primarily with our project plans, budgets, actual expenses, travel, metrics/statistics, reports, liaison for the Advance Team and other responsibilities.
I continue to have a desire to serve and be a part of bringing hope and healing.