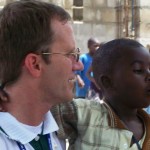 I serve as a volunteer with Mercy Ships and thus I am dependent on the financial support of people in order to meet all of my financial obligations, including monthly fees for housing and food on board, health insurance, travel, and all other expenses. If you are led to share through financial support, you may do so through one of the options on this page. **Please include a note designating for the support of Keith R. Brinkman. 
UNITED STATES 

If you desire a US tax deductible receipt, please make your check payable to Mercy Ships, and send to:

Mercy Ships
Attention: Donor Services
P.O. Box 2020
Lindale, TX 75771 USA

CANADA 

It is not possible for me as a non Canadian to received support via Mercy Ships Canada in which you as the donor receive a Canadian tax receipt – not permitted under the guidelines set out by Canada Revenue Agency.  

Best option is to give via the link (Donate to …) to the web site below, but you won't receive a Canadian tax receipt.
You may also give using your credit or debit card -Visa or MasterCard. Please note that I will have to pay the processing charge of 3% through Mercy Ships. You may access from the internet by clicking Donate to the left – to the right is the button to donate via PayPal though no tax receipt is available this way. Thank you!: 
EUROPE 
If you desire to support me via the various Mercy Ships European locations, please send me an E-Mail and I will provide you with the detailed information on how to support. 
Automatic bank withdrawals are also available, please contact our Donor Services Department 

in Texas at 1-903-939-7000 and they will mail you a form to be completed.

Thank you for your partnership.