15 March 2014
Greetings from the Republic of Congo on the Africa Mercy.  We are privileged to be able to serve in Africa and Mercy Ships is invited in by the head of state, President or Prime Minister, etc.  One of the special requests from His Excellency President Denis Sassou Nguesso was for healthcare education for his healthcare professionals.  So with his request and our desire to offer more in regards to capacity building – education, we worked together at a Programs Consultants back in March 2013 to come up with the healthcare education plan for the Congo 2013/2014 field service.  With our healthcare education the goal is impartation of knowledge, skills and professional attitude in individuals to affect transformational development and we aim to achieve this by increasing depth of education through mentoring and increasing breadth of education through courses.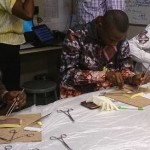 Mentoring:  Surgeons in maxillofacial, obstetric fistulas, ophthalmology and orthopaedics.  Six Operating Room Nurses for the entire field service.  Ward Nurses in the surgical specialties in maxillofacial, obstetric fistula and general surgery care.  Anaesthesia with a focus on anaesthesia for children.  Sterile Processing Technician nurses in their local hospitals.  Team training on the World Health Organization Safe Surgery Save Lives checklist and pulse oximetry in Dolisie, third city of Congo.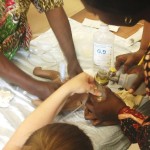 Courses:  Basic Surgical Skills with facilitators from Ghana.  Primary Trauma Care courses starting in May with up to 20 participants, Ultrasound/Radiology which has already taken place with 10 participants the entire week and others joined for special sessions.  Anaesthesia Course in Pointe-Noire in March, already conducted a similar course in Brazzaville prior to the ship's arrival.  Disease Prevention/Infection Control Team working with local hospitals, part of our partnership with Rotary International and also a Cataract Vocational Training team in Brazzaville.  Added at special request of the neonatal unit at the government hospital the Newborn Resuscitation courses for 47 nurses.  Leadership Course geared for medical leaders here in Pointe-Noire. 
Basic education in oral health is offered to all patients at our dental clinic.  On the job training for our day crew (local workers) plus basic community health education classes for them.  Our non-healthcare related education include two leadership courses for community leaders and our 19-week agriculture course for 25 participants to become trainers of community farmers  and then follow up and one on one mentoring afterwards.
For us in Programs, this is a great increase in what we have officially done in the past.  So now we have published project plans with our goals and activities which we track in our statistics and I am responsible to accumulate and publish the statistics for the ship.  Plus we have individual reporting on each of our projects, which also includes our actual expenses as compared to our proposed budget.  As stated in one of our core values 'committed to excellence'.  
Please pray *for our facilitators of the healthcare education mentoring and courses *for each of the education participants *for all of our patients, their surgeries and their recovery time period * for our plans for the next field service in Conakry, Guinea from August 2014 – June 2015.